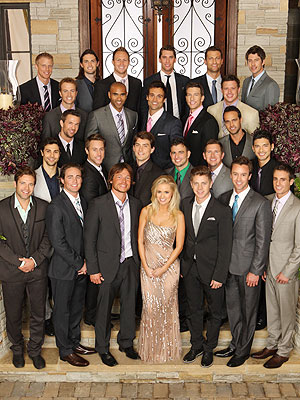 While host Chris Harrison calls the
Men Tell All
" specials a rite of passage, Emily Maynard thought last week's taping in Hollywood was "a form of unusual punishment."
"It's torture to make a girl walk into a room full of her ex-boyfriends in ridiculously high heels and an obscenely tight dress, let them ask whatever questions they want and then tape it for national TV," the Bachelorette star told PEOPLE. "Even though I had the best group of guys in the history of the show, I'm glad it's over."
And that's coming from a woman who had to endure less than an hour of the four-plus it took to dissect yet another dramatic season of the ABC show. As always, plenty of fireworks were cut for time, but PEOPLE brings you the best of what you didn't see:
FANDEMONIUM
It seemed obvious by the applause that Sean was a fan favorite, and it was easy to be moved by his elimination footage. But one studio audience member was moved to tears l ong before the Texan took the hot seat. She started crying when he was loaded last on the dais. She also rubbed her chest as if her heartbeat had quickened to an alarming degree.
When we told him about it post-show, he blushed. "All the fan support has been so humbling and so helpful in getting over Emily," he told PEOPLE. "But I will never hear the end of it if any of the guys saw her. Charlie already pinched my cheek when Chris made the comment about the screaming."
BAGGAGE CLAIMS
Kalon was dragged over the coals for many things: his helicopter entrance, his pompous demeanor, his rude comments on the show and Twitter and even for his choice of luggage.
At one point, things became so heated that one bachelor shouted from off-screen that he "deserved an ass-whooping" because "you don't talk to women like that."
Still, he hopes viewers will give him a second chance to make a first impression on Bachelor Pad, though one contestant seemingly did already as he confirmed that he found love in the mansion. "It's a fresh relationship," he said. "We live far away from each other and things that happen on the show aren't necessarily real life, but we're going to make a real effort to see if we can make it work."
SPOOFING OFF
Michael, the long-haired rehab consultant, grabbed his guitar and closed out the evening with a song about this season to the tune of "Call Me Maybe." It included lines like "God those boobs are showing," "Is it just me or is there a lot of castles this season?" and (referring to Doug) "My name's Dougie / I got big muscles / And when I kiss you / I'm awkward-humble."
CLEARING THE AIR
Emily admitted that if she could do it all over, she wouldn't have excused Randy on night one.
Meanwhile, the only thing Ryan regretted was "wearing that white tank top."
And while he admitted to being angry the night he didn't get a rose, Chris clarified that he didn't give Emily the finger during his exit interview. "I would never do that to her," he said. "It was a weird shadow. But I felt bad because people kep t mentioning that."
SORRY CHARLIE
Charlie complained about being sent home before Kalon and demanded an explanation. Emily told him she didn't appreciate that he made fun of her all the time and he justified his actions, saying he was "trying to lighten the mood" and said he was just a big kid.
She countered, "I already have a kid," and then confronted him about talking smack in interviews. He met her years earlier through mutual friends and claimed that she was a different person since appearing on TV. Her response: "Thank god I'm not the same person. That was five years ago."
Source : people.com