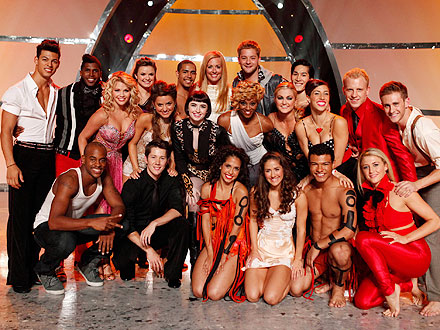 Fresh off the show's 200th episode,
So You Think You Can Dance
's season 9 had its first live show on Wednesday.
After a workplace-set group number by the top 20, judge Mary Murphy handed out a ticket on the "hot tamale train" to ballroom dancer Witney Carson, 18. But her ballet-dancer partner Chehon Wespi-Tschopp, 23, did not fare as well.
"When we pulled ballroom I wanted to die a little bit. I'm so new to this and I felt awkward," Wespi-Tschopp told PEOPLE of working with their choreographer, Dancing with the Stars pro Louis Van Amstel, who called him a "pretty boy with work to do" in rehearsal.
Receiving more positive feedback were jazz dancer Tiffany Maher, and contemporary dancer George Lawrence II, both 19, who left Murphy "breathless" after their Sonya Tayek contemporary routine.
"The connection was just so simple," said Lawrence II, who portrayed lovers with Maher. "All the positive feedback they gave us was so heartwarming becau se our hard work paid off."
Because the judges must choose two boys and two girls to send home next Wednesday, chemistry and "memorable" routines were deemed crucial by the panel.
"People are going to Google you up," Murphy told contemporary dancer Eliana Girard, 21, and animator Cyrus "Glitch" Spencer, 22, after their energetic Broadway routine. "They are going to watch that routine over and over again."
"Sometimes you get lucky with choreography," said ballet dancer Daniel Baker, 24, whose routine with contemporary dancer Alexa Anderson, 19, was considered "wonderfully intricate" by the judges but not personable. "I knew it wasn't going to be the favorite routine of the night but I loved it."
The performance enjoyed "more than anything this evening," according to head judge and executive producer Nigel Lythgoe, was a Travis Wall routine inspired by the film Titanic and danced by jazz dancer Audrey Case, 18, and contemporary dancer Matthew K azmierczak, 21.
"It's not often you have us judges standing up so early in the season," Murphy said after the performance.
But in the end it will be the audience that places three boys and three girls in jeopardy of going home next Wednesday and Case hopes the viewers at home connected with the routine as much as the judges did.
"Sometimes I'm afraid that because we got such a good review that people will think, 'We don't have to vote for them. They're safe," she said. "But we're not."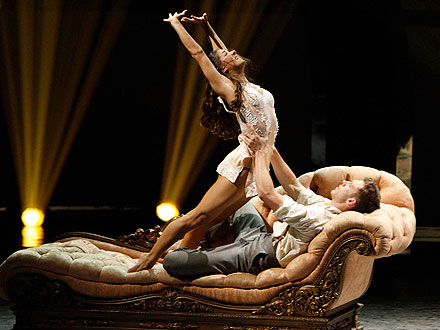 Source : people.com