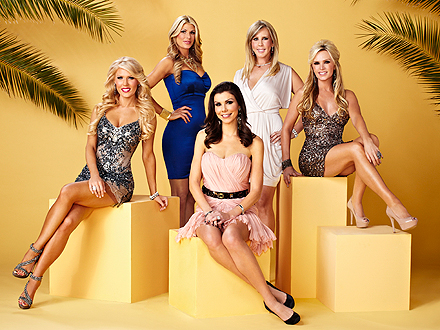 The Real Housewives of Orange County
ended on an explosive note with former friends Tamra Barney and Vicki Gunvalson erupting into a screaming match in the season 7 finale.
Well, the end was just the beginning.
In an exclusive first look at the upcoming two-part reunion special, which airs July 10 (9 p.m. ET) and July 16 (8 p.m. ET) on Bravo, the ladies appear to be at each other's throats – again.
And besides getting attacked by a bird, host Andy Cohen will be asking questions of all five women on the following topics:
• Vicki's controversial new beau, Brooks: Her southern boyfriend has come between two of the most important people in Vicki's life – her former best friend Tamra and her daughter Briana, who say they're only looking out for Vicki's best interest and worry about Brooks's intentions.
• Gretchen Rossi and Alexis Bellino's friendship: The issue between these two seems to be Gretchen's cl aim she was offered Alexis's job as a special correspondent for local news channel Fox 5 in San Diego. But the real issue could be Gretchen's newfound friendship with Alexis's enemy Tamra.
• The trip to Costa Rica: During an awkward moment on the Housewives' vacation to Costa Rica, Alexis retreated to her room (and eventually back home to Orange County) after the ladies, led by newbie Heather Dubrow, confronted her about coming across as less than genuine.
• Heather's name-changing party: A lot went down before Vicki and Tamra's screaming match. Alexis brought an uninvited guest, Sarah, who ate a piece of Heather's cake before it was served and was kicked out. Alexis's husband Jim showed up later and confronted Heather's husband about insulting his wife. And then Brooks accused Tamra of giving him the "evil eye" and things unraveled pretty quickly.
You can be sure all this and more will be discussed at the Orange Co unty reunion – but for now you can get a first look at the post-4th fireworks below.
Source : people.com