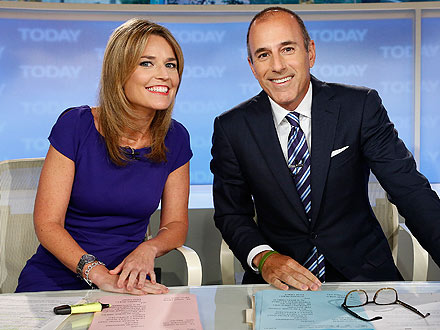 Now that she's taken her spot next to Matt Lauer on the
Today
show, Savannah Guthrie has plenty of reasons to be happy – and possibly a little embarrassed, too.
On her official welcome to her morning gig Monday, Guthrie, 40, endured a friendly hazing-like induction, in which viewers caught a glimpse of a favorite childhood book about an aspiring cheerleader, as well as a clip of her singing and playing the guitar to Bob Dylan's "You're Gonna Make Me Lonesome When You Go."
"It was just such a warm welcome, and how could you not feel really good after that?" she tells PEOPLE of her on-air introduction, which also included heartfelt comments from friends, her mother and former colleagues. "I'm thankful and excited for the future."
Her promotion from 9 a.m. anchor to co-host came after Ann Curry's departure from the show June 28, a decision linked to a slip in ratings since Meredith Vieira's resignation last summer.
"I just want to say that I'm so proud and honored to be in a place occupied by so many women I admire," she said during the newscast, pointing to her predecessors, who have also included Barbara Walters and Jane Pauley.
• Reporting by LESLEY MESSER
For the full interview with Savannah Guthrie, pick up the new issue of PEOPLE, on newsstands Friday
Source : people.com