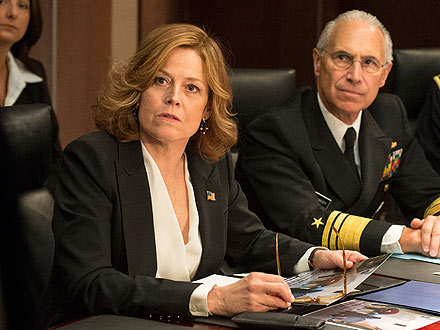 David Giesbrecht/USA Network




The six-episode Political Animals has the makings of great summer entertainment. It's as shallow and cheaply constructed as a kiddie pool, but there's plenty of water to splash around in.
In a nervy riff on real-life politics, Sigourney Weaver plays Elaine Barrish Hammond, a greatly admired Secretary of State and former First Lady: She's now divorced from ex-President Bud Hammond (Ciarán Hinds), a southern rogue whose sexual conquests can't satisfy his hunger for a return to power. My guess is you're not supposed to imagine Pat and Richard Nixon.
In the pilot episode, Madam Secretary is orchestrating an engagement party for her son (James Wolk), who's also her aide, while figuring out how to play a tricky diplomatic crisis in the Middle East. For some reason she's been left out of the loop by the current president (Adrian Pasdar, looking like Barack Obama's former chief of staff Rahm Emanuel). The story bulges with many more messes, including her gay son (Sebastian Stan), who has a drug problem, and a reporter (Carla Gugino), who knows too much.
Weaver's performance is appropriately grand and grim, shot through with dry sarcasm. Hinds (HBO's Rome) is more oily than charming as the old president, but Bud's lip-smacking lust for women and the White House is what sets the show's tone: vulgar, jolly and winning.
Political Animals premieres Sunday (10 p.m. ET) on USA.
Source : people.com