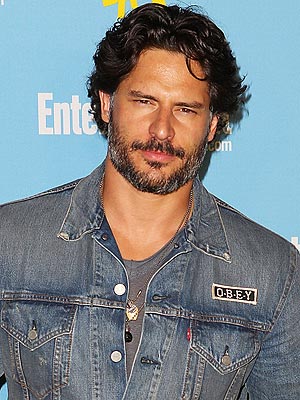 The only thing tighter than their lips are their abs, but the cast of
True Blood
let a few spoilers slip Saturday during a panel at Comic Con – and it looks like Bon Temps is in store for a particularly steamy summer.
"I sexually eviscerate another cast member in one of the episodes coming up," werewolf hunk Joe Manganiello revealed, after showing off his body-rolling skills to the packed room of thousands of fans.
But the lucky lady in question may not be Anna Paquin's Sookie Stackhouse, who got hot and heavy with Manganiello's Alcide Herveaux earlier this season. Series creator Alan Ball teased that three new romantic relationships – not just casual couplings – will develop throughout the course of the season.
Ball wouldn't address the specifics, but he did promise fans were in store for some steamy scenes.
"There are some very hot sex scenes and there are some wacky, 'what the f––' crazy [scenes]," Ball told fans. "Between those two, I think all tastes will be satisfied."
Source : people.com