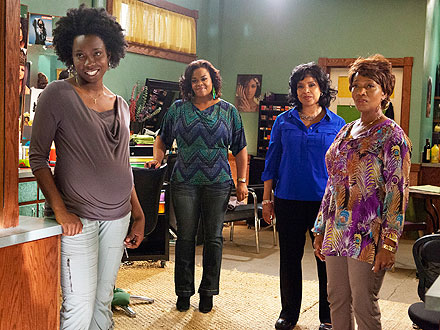 The 1989 movie that helped make Julia Roberts a star is getting a makeover.
A new version of playwright Robert Harling's stage-to-screen dramedy Steel Magnolias is geared up as a Lifetime TV movie to air in the fall – but the cable network is already previewing the tear-jerker on its website. Watch the trailer below (and have the Kleenex ready).
This time, the women at the core of the Southern story, set in the fictional Louisiana town of Chinquapin, will be played by African Americans: Queen Latifah as M'Lynn, Alfre Woodard as Ouiser, Phylicia Rashad as Clairee, Adepero Oduye as Annelle, and Condola Rashad, the Tony-nominated, real-life daughter of Phylicia, as Shelby.
In the movie (based on the 1987 play), those roles were played, respectively, by Sally Field, Shirley MacLaine, Olympia Dukakis, Daryl Hannah and Roberts.
"It's a classic story with classic characters," Woodard told the New York Post this week. "It's not like we're turn ing it into Big Momma's House!."
Of playing Ouiser, the steeliest of the magnolias, the four-time Emmy winner, 59, said, "I really enjoy being bitchy! It's fun. You have to behave all your life. But it is always fun to get to act like a person who is not accommodating at all."
Source : people.com