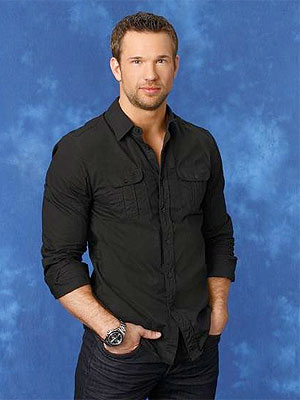 On paper, Doug Clerget, 33, seemed like the obvious choice for
The Bachelorette
's Emily Maynard. He was a hunky single dad who got the first impression rose and exposed Kalon's "baggage" comment. Unfortunately, the charity director/realtor took things too slow in the romance department, which he admitted was one of his common relationship missteps during a conference call from Seattle.
You were weepy after being eliminated. Were you disappointed to be off the show or sad that you weren't the one for Emily?
I was genuinely disappointed. It was a life-changing, very cool thing to do. And as a full-time single dad, it would be nice to find companionship. There was a lot of missing my son. ... And my grandfather passed away right before I went on the show. I didn't have a chance to grieve at all.
You also seemed shocked when you finally realized Emily was sending you home mid-date. Where did you think her speech was going?
I thought the conversation was headed towards "gimme a kiss." I wasn't expecting to be sent home.
Were you happy she let you go before involving your family?
No, I wasn't relieved at all. I was really bummed actually. Even if we didn't end up together in the end, I think she would have had a great experience in Seattle. I've got a really wonderful network of friends. I'd have loved for her to meet my son. Austin would have been a huge part of the hometown date.
Was Emily right for you?
We had a good connection. Both being single parents was an immediate bond that we had. She is obviously a very caring sweet person, a loving mother and has a good sense of humor. The times we had together, we had a lot of fun.
Did you think getting the first impression rose would take you farther?
I was honored to get the first impression rose. Credit should go to Austin since he wrote her the note. But there was a really good group of guys so there was no free pass.
Her biggest issue seemed to be with how behind your relationship was compared to the others.
As a single dad, I tend to take things more slowly ... I really wanted build a good friendship [first]. I was just trying to get to know her in the best way that I could in the short amount of time I had with her. I did not fully comprehend the amount of physical chemistry all the guys [had with Emily] until I watched. ... As I'm not a mind reader and my girl radar was broken, I didn't know how much Emily wanted that to happen ... I didn't want to be just one more guy trying to kiss her. I read that wrong.
Who are you rooting for?
I was great friends with the guys left. Sean I love. Ari's awesome and mature. Jef is one of the most hilarious guys I know and has got his world together. [They] were in it for all the right reasons throughout the whole process. Chris and I had a bump in the road, which took me by surprise, but I still like him. It's a tough call but probably Sean.
Would you be the Bachelor?
I am probably so far down on the list to do The Bachelor but yeah. It was an amazing experience. If ABC did as good a job picking girls for me to date as they did picking guys for Emily, I would definitely think about it.
Source : people.com