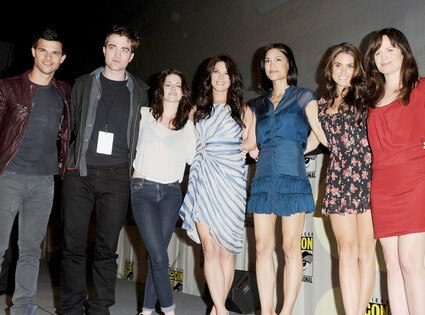 Sara DeBoer/startraksphoto.com
Twi-hards, pack your fangs and head to Southern California, stat—the cast of Breaking Dawn Part 2 will be the first to speak at Comic-Con 2012!
Summit announced via Twitter that the cast of the final Twilight installment is the opening panel in San Diego, Calif., on July 12 (only 16 days away!).
In case you forgot, this will mark the last Comic-Con run for the Twilight cast, as the final flick hits theaters Nov. 16.
So, what kind of surprises will this panel pack as a tribute to the last vampy flick?! And will Robert Pattinson and Kristen Stewart be in tow?
READ: Do Twilight Stars Have "Secret Knowledge" of Life After Breaking Dawn?
Hello, you either have JavaScript turned off or an old version of Adobe's Flash Player. Get the latest Flash player.
Maybe.
It's rumored that R.Pattz and K.Stew will head to sunny San Diego for the panel, but in true tight-lipped Summit style, it hasn't been officially announced.
Last year, Rob, Kris and good ol' Taylor Lautner sent fans into a tizzy when they sat on the panel for Comic-Con 2011 and talked about the potential of a Breaking Dawn sequel. Several members of the Cullen clan also showed up to serve breakfast to loyal Twi-hards camping out for the festivities. Sounds pretty friggin' fab, right?
Well, this year you should prepare for even more excitement—we'd put money on Rob and Kris gracing us with their presence (and hopefully some PDA!)—and exclusive footage from Breaking Dawn Part 2 will also be shown to fans who make it inside.
READ: Twilight Stars Surprise Hungry, Sleepy Comic-Con Fans With Breakfast
We're already shedding a Twilight tear since this is the last time our precious trifecta will be on the Comic-Con panel together (unless Steph pens that sequel!) and we can hardly believe their vamptastic run on the big screen is almost coming to an end!
But we're getting ahead of ourselves: We still have one last Twi-flick to get amped over, so we'll save the tears for after we ogle Rob's sexiness and sparkly skin in November.  
We'll obviously be on hand when the Breaking Dawn crew hits San Diego, so sound off below with your questions for the cast!
And when the Twilight goodness all comes to an end—dare we suggest Fifty Shades of Grey so you can get your pseudo-Robsten sex-filled fix?!
PHOTOS: 15 Biggest Movies of 2011 Comic-Con
Source : eonline.com