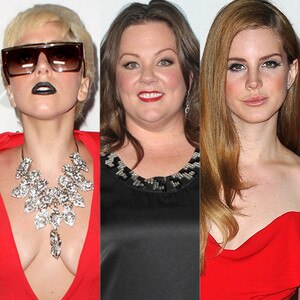 Todd Williamson/John Shearer/WireImage.com; Gareth Cattermole/Getty Images
It's nearing the end of the week—and the end of our lesson plan—so we hope you're still able to keep up with the all the amazing things H'wood has taught us over the years.
We know, we know, between those oh-so-dramatic Disney darlings and all those sex-tastic Magic Mike dudes, it's a lot to process.
But today we have five more reasons that Tinseltown may be the best teacher of all. So grab your backpacks and let's get down to business, shall we?
READ: Too Hot for Live TV? Channing Tatum Shows Off His Magic Mike Stripper Moves on Today
16. A Little Competition Is Healthy! Which is why we have so many reality shows that pit singers—or potential suitors or wannabe superheroes, etc.—against each other. And the public reaps the rewards (Susan Boyle, anyone? Or for that matter: Carrie Underwood, Kelly Clarkson and countless other Idol alumni). And it's not just reality TV: We hardly have to remind you about the Snow White fight between Kristen Stewart and Lily Collins. Didn't we all win, then?
Hello, you either have JavaScript turned off or an old version of Adobe's Flash Player. Get the latest Flash player.
17. Catfight Your Way to the Top! Lady Gaga and Madonna as besties? Boring! But when the claws come out, the money starts rolling in. The blonde popstars were formerly on friendly terms, with Gaga gushing over the Material Girl and the two appearing in an SNL sketch as faux rivals. All was at peace. Cut to now, when the two seem to duke it out daily. Cue a duel between the little monsters and Madge fans and the two "rivals" rake in the dough.
18. Any Press Is Good Press! Well, that might be stretching it. DUIs usually aren't the greatest thing for someone's career. Not to mention fighting with costars or going on racist rants...OK, so maybe press isn't always good. But being controversial usually is. Remember songstress Lana Del Rey's much maligned Saturday Night Live stint? Well, look who's laughing now—she's a household name and sells out shows no matter where she goes.
READ: Lana Del Rey Looks Like Elvis' Child Bride and Pals Around With Jaime King After Concert, Natch
19. It's Never Too Late for a Makeover! Sure, bad girls might finish first (a lesson the likes of K.Stew and Rihanna taught us earlier in the week), but that doesn't mean that these gals wanna stay bad forever. Just look at Angelina Jolie, who swapped vials of blood for diaper duty and foreign aid initiatives. Or Nicole Richie who traded in her key to the city for quiet time with her family and a killer fashion line.
20. Girls Can Be Funny Too! Shocker of the century, right?! Well apparently so, because Hollywood was way late to catch on to the fact that not only are there some hi-lar-ious ladies here in Tinseltown but if you put 'em in movies, people will pay to see them! And love those flicks! And they'll dominate the box office! Everybody wins, right? Thank you Melissa McCarthy, Kristen Wiig and Maya Rudolph for making this all crystal clear.
PHOTOS: Lady Gaga's Top 10 Red Carpet Moments
Source : eonline.com